What is SARS-CoV-2 and How Can Mice Help?
Viruses are infective agents that cause disease. They are different from other pathogens, such as bacteria, fungi and parasites, because most scientists don't technically classify them as alive. They're not 100% an organism as they cannot grow and reproduce by themselves. They're made of the same building blocks of life (DNA, RNA and nucleic acids) as other organisms (such as bacteria or our own cells) but are unable to read and use this information. They reproduce by infecting host cells and hijacking the host's processes. By inserting its genetic information into a cell's DNA, when the cell begins to produce proteins it reads the viral DNA instead of its own, producing viral components that assemble into a new virion which can then infect a new cell.
Scientists classify viruses in several ways because they vary so widely, such as whether they have DNA or RNA or by their size and shape. Coronaviruses have single-stranded RNA genetic material encased in a viral envelope – a layer of protein usually made up of host cell and viral proteins that allows a virion to bind to a new host cell and fuse with it, starting the viral replication process. Coronaviruses have many club-shaped viral spike proteins attached to its envelope that creates a crown or corona-like appearance when viewed under a microscope.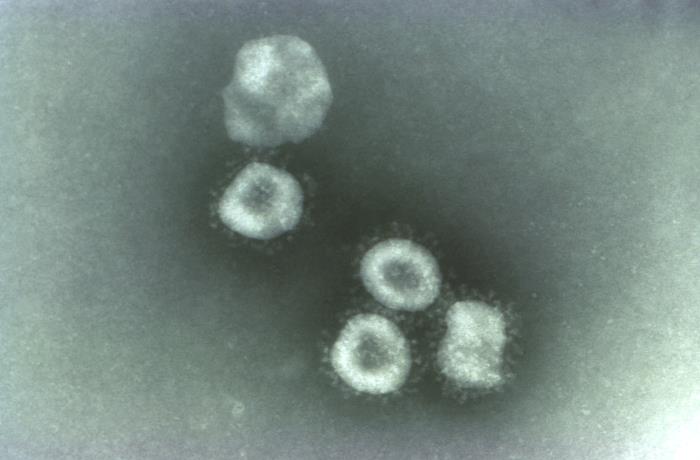 There are a number of different coronaviruses that infect different animal species and cause widely varying severity of respiratory disease. There are seven known human coronavirus species (HCoVs), including the recent MERS-CoV and SARS-CoV. 'COVID-19' actually refers to the disease caused, not the virus that causes the disease, and stands for 'coronavirus disease 2019'. COVID-19 is caused by the most recent novel coronavirus, first known as 2019-nCoV and now known as SARS-CoV-2 (severe acute respiratory syndrome coronavirus 2.) SARS-CoV-2 is more infective than SARS-CoV and MERS-CoV and therefore spreads more easily but is less fatal(1).
It is SARS-CoV-2's spike protein that allows it to bind to human cells via the ACE2 (angiotensin converting enzyme 2) receptor(2). This receptor is found on lung, artery, heart, kidney and intestine cells. Normally, human angiotensin, a protein, will attach to the ACE2 receptor, causing a lowering of blood pressure. The viral spike protein's shape also fits ACE2 like angiotensin does, allowing a virion to bind to the receptor and enter cells.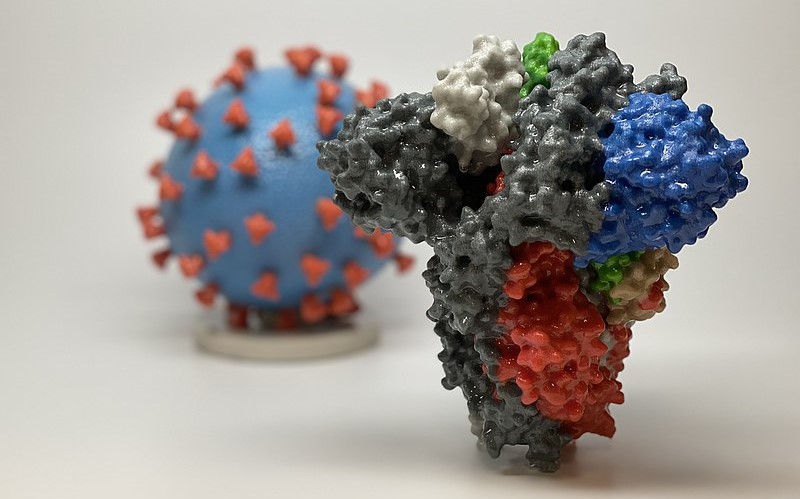 Mice also have an ACE2 receptor but its shape is different from the human version and SARS-CoV-2 doesn't bind to it as easily. This means mice can be naturally infected with the virus but the severity of the disease is less than in humans(3). A mammalian model is vital for studying the virus and the disease it causes, as well as validating possible treatments and vaccines. Institutions such as our consortium member The Jackson Laboratory (JAX) are breeding a mouse colony with humanised ACE2 receptors (K18-hACE2 transgenic mouse model(3).) By genetically altering the mice to produce human ACE2 instead of mouse ACE2 we can create a much more applicable mouse model for the study of SARS-CoV-2. This will enable scientists to complete the research needed to treat the outbreak.
Main image credit: Felipe Esquivel Reed / CC BY-SA (https://creativecommons.org/licenses/by-sa/4.0)
Sources
Singhal, T. A Review of Coronavirus Disease-2019 (COVID-19). Indian J Pediatr 87, 281–286 (2020). https://doi.org/10.1007/s12098-020-03263-6
Letko, M., Marzi, A. & Munster, V. Functional assessment of cell entry and receptor usage for SARS-CoV-2 and other lineage B betacoronaviruses. Nat Microbiol 5, 562–569 (2020). https://doi.org/10.1038/s41564-020-0688-y
McCray PB Jr, Pewe L, Wohlford-Lenane C, et al. Lethal infection of K18-hACE2 mice infected with severe acute respiratory syndrome coronavirus. J Virol. 81(2), 813–821 (2007.) https://doi:10.1128/JVI.02012-06
ASHG 2018 Annual Meeting – research using mouse models
Damian Smedley will give a talk on Wednesday from 9:30am to 9:45am in Ballroom 20A
The 100,000 Genomes Project is applying whole genome sequencing in a diagnostic setting to rare disease and cancer patients from the National Health Service (NHS) of the UK. Damian Smedley will describe how the clinical phenotype data collected on each rare disease patient is used in automated variant prioritisation software (Exomiser) to identify 68%, 78% or 81% of diagnoses in the top 1, 3 and 5 matches respectively. This software takes advantage of a number of reference disease and model organism genotype to phenotype databases including the International Mouse Phenotyping Consortium (IMPC).
Duchenne muscular dystrophy (DMD) is a devastating genetic disease that impairs cardiac and skeletal muscle development. People with DMD gradually lose ambulation in childhood, acquire respiratory and heart failure in young adulthood and succumb to the disease by their mid-thirties. Until recently, there has been no effective treatment for the characteristic muscle-wasting progression of this disease. Provisional FDA approval of the first DMD therapy (eteplirsen) and improved disease management strategies have extended the life span of DMD patients and expanded the field of DMD research into later-stage outcomes such as cardiomyopathy (heart failure).
Overall, little is known about the mechanisms of DMD cardiomyopathy, particularly how individual signaling pathways contribute to its development. Breakthrough research published in Nature Communications by a large, interdisciplinary team of Medical University of South Carolina (MUSC) and Ohio State University investigators has uncovered an unexpected mechanism that underlies cardiomyopathy in DMD.
"Understanding cardiomyopathy is a significant achievement," explains Guttridge. "About 95 percent of patients with dystrophin gene mutations (like the one that causes DMD) develop heart failure and up to 25 percent of these patients die from it. As we've gotten better at managing patients on ventilators and with other types of care, they're living longer but extending life is also thought to put more stress on their hearts. So, heart failure needs to be considered in the overall management of this disease."
The team had previously focused on the NF-κB transcription factor in skeletal muscle and, with others, showed that it regulates both physiological (differentiation, growth, and metabolism) and pathophysiological (cachexia, atrophy, and dystrophy) aspects of skeletal muscle biology. Their finding that inhibiting NF-κB improved functioning in dystrophic limb and diaphragm muscles and reduced inflammatory damage laid the foundation for investigations into NF-κB as a potential therapeutic target in DMD.
"We'd been using skeletal muscle as a platform to understand NF-κB," explains Guttridge. "We know it drives inflammation and DMD has an inflammatory component, so then we started looking at what it does in DMD. There's also some evidence that NF-κB plays a role in heart failure, but results differ widely based on the type of heart disease-which suggests that it may act differently in various cardiac conditions. So, we began wondering how it might contribute to cardiomyopathy in DMD."
Using a mouse model of DMD (mdx), the team first established that NF-κB does, indeed, contribute to cardiac dysfunction in this disease. Specifically, their first set of experiments showed that cardiomyocyte NF-κB impairs cardiac response to beta-adrenergic stress. This is the first evidence to establish that cardiomyocyte-derived NF-κB signaling is instrumental in promoting dystrophic cardiac dysfunction.
Their next experiments found that cardiomyocyte NF-κB, though not required for the development of cardiac fibrosis or myocyte injury in mdx mice, still contributes to cardiac dysfunction. The question then became "How?" Published evidence indicated that genes related to calcium were enriched in the absence of NF-κB. The team followed this proposed link between NF-κB and calcium using microarray analyses to compare the hearts of NF-κB knock-out mice (mdxHRTΔIKKβ) with littermates that had intact NF-κB (mdxIKKβf/f).
They found that cardiomyocyte NF-κB ablation normalized calcium handling and significantly increased calcium gene expression.
Taking a broader look at overall gene expression patterns in dystrophic hearts lacking NF-κB, they found that it played a previously unreported functional role as a global repressor in mdx hearts.
"This mechanism was unexpected," says Guttridge. "We thought that when the pathway was ablated, the global gene expression pattern would be down-regulated because NF-κB is supposed to be an activator. Surprisingly, we saw the opposite-about 75 percent of genes were upregulated. That told us that NF-κB was acting as a transcriptional repressor."
The team's next series of experiments uncovered that, although NF-κB was activated in dystrophic hearts, it was not playing its canonical role as a direct transcriptional activator but rather was modulating chromatin conformation to deplete H3K27ac. A reduction of this chromatin mark indicates that there is a repression on gene expression. This depletion, in turn, repressed the Slc8a1 gene, which codes for the NCX1 protein. And, here's the rub– NCX1 plays a crucial role in maintaining calcium homeostasis in multiple cell types, including muscle.
"When we dug deeper to find out how and exactly what genes it was repressing, we saw that the ones that were going up were mostly calcium-handling genes like Slc8a1. Without proper mobilization of calcium, the heart doesn't contract normally," says Guttridge, "The reason NF-κB was acting as a repressor of calcium genes now made a lot of sense."
While it is understood that the pathology of dystrophic hearts is caused by disruption of calcium homeostasis, the exact mechanisms driving this disruption have not previously been explored. Furthermore, these findings have important implications for the treatment of heart failure in multiple conditions including diabetes and after ischemia-reperfusion injuries. Perhaps most important, these findings highlight that targeting NF-κB could benefit both skeletal and cardiac muscle.
"I'm very excited about these findings!" says Guttridge. "As a scientist, you follow your hunches and try to vigorously test your hypotheses-it's so satisfying to have found a pathway that we believe contributes to the pathology of DMD, not just in skeletal muscle but also in the heart. This gives us hope that a drug can be developed that has the possibility of improving patients' lives."
Research article: NF-κB inhibition rescues cardiac function by remodeling calcium genes in a Duchenne muscular dystrophy model
A gene mutation causes wrinkled skin and hair loss; turning off that mutation restores the mouse to normal appearance.
Wrinkled skin and hair loss are hallmarks of aging. What if they could be reversed? Keshav Singh and colleagues have done just that, in a mouse model developed at the University of Alabama at Birmingham. When a mutation leading to mitochondrial dysfunction is induced, the mouse develops wrinkled skin and extensive, visible hair loss in a matter of weeks. When the mitochondrial function is restored by turning off the gene responsible for mitochondrial dysfunction, the mouse returns to smooth skin and thick fur, indistinguishable from a healthy mouse of the same age.
"To our knowledge, this observation is unprecedented," said Singh, a professor of genetics in the UAB School of Medicine.
Importantly, the mutation that does this is in a nuclear gene affecting mitochondrial function, the tiny organelles known as the powerhouses of the cells. Numerous mitochondria in cells produce 90 percent of the chemical energy cells need to survive.
In humans, a decline in mitochondrial function is seen during aging, and mitochondrial dysfunction can drive age-related diseases. A depletion of the DNA in mitochondria is also implicated in human mitochondrial diseases, cardiovascular disease, diabetes, age-associated neurological disorders and cancer.
"This mouse model," Singh said, "should provide an unprecedented opportunity for the development of preventive and therapeutic drug development strategies to augment the mitochondrial functions for the treatment of aging-associated skin and hair pathology and other human diseases in which mitochondrial dysfunction plays a significant role."
The mutation in the mouse model is induced when the antibiotic doxycycline is added to the food or drinking water. This causes depletion of mitochondrial DNA because the enzyme to replicate the DNA becomes inactive.
In four weeks, the mice showed gray hair, reduced hair density, hair loss, slowed movements and lethargy, changes that are reminiscent of natural aging. Wrinkled skin was seen four to eight weeks after induction of the mutation, and females had more severe skin wrinkles than males.
Dramatically, this hair loss and wrinkled skin could be reversed by turning off the mutation. The photos below show the hair loss and wrinkled skin after two months of doxycycline induction, and the same mouse a month later after doxycycline was stopped, allowing restoration of the depleted mitochondrial DNA.
Little change was seen in other organs when the mutation was induced, suggesting an important role for mitochondria in skin compared to other tissues.
The wrinkled skin showed changes similar to those seen in both intrinsic and extrinsic aging — intrinsic aging is the natural process of aging, and extrinsic aging is the effect of external factors that influence aging, such as skin wrinkles that develop from excess sun or long-term smoking.
Among the details, the skin of induced-mutation mice showed increased numbers of skin cells, abnormal thickening of the outer layer, dysfunctional hair follicles and increased inflammation that appeared to contribute to skin pathology. These are similar to extrinsic aging of the skin in humans. The mice with depleted mitochondrial DNA also showed changed expression of four aging-associated markers in cells, similar to intrinsic aging.
The skin also showed disruption in the balance between matrix metalloproteinase enzymes and their tissue-specific inhibitor — a balance of these two is necessary to maintain the collagen fibers in the skin that prevent wrinkling.
The mitochondria of induced-mutation mice had reduced mitochondrial DNA content, altered mitochondrial gene expression, and instability of the large complexes in mitochondria that are involved in oxidative phosphorylation.
Reversal of the mutation restored mitochondrial function, as well as the skin and hair pathology. This showed that mitochondria are reversible regulators of skin aging and loss of hair, an observation that Singh calls "surprising."
"It suggests that epigenetic mechanisms underlying mitochondria-to-nucleus cross-talk must play an important role in the restoration of normal skin and hair phenotype," Singh said, who has a secondary UAB appointment as professor of pathology. "Further experiments are required to determine whether phenotypic changes in other organs can also be reversed to wildtype level by restoration of mitrochondrial DNA."
Research article: Reversing wrinkled skin and hair loss in mice by restoring mitochondrial function
Research using IMPC resources offers new insight into congenital heart disease and may allow new therapies to be developed for human patients. The research is published in Nature Communications, and is summarised below.
By Nathan Collins,
Every year, a small number of babies are born with hearts whose muscles are spongy and thin, although exactly what causes this condition isn't clear. Now, Stanford biologists think they may have found a clue: spongy heart muscles could be the result of improperly developed blood vessels surrounding the heart.
Apart from a deeper understanding of congenital heart disease, the results could shed light on how heart muscle forms in the first place. Until now, no one realised what an important role newly-forming blood vessels played in supporting the growth of heart muscle – or that the support is more than just a matter of supplying oxygen.
Yet the study's two senior authors, Ashby Morrison and Kristy Red-Horse, and their colleagues did not set out to understand congenital heart disease or to change how people thought about heart development in utero. Instead, they attribute the project to something altogether more random: their offices are right next to each other.
Next door and miles away
Apart from the fact that both are biologists, Morrison and Red-Horse don't have that much in common as researchers. For one thing, Red-Horse, who is a member of Stanford Bio-X, the Cardiovascular Institute and the Child Health Research Institute, studies the development of tissues and whole organs, often by breeding her own genetically modified mice. Much of Morrison's research, meanwhile, centers on the basic molecular machinery that reads out messages in the DNA and uses it to build functioning cells – usually in yeast.
"Kristy's on the opposite side," said Morrison, a member of Stanford Bio-X, the Child Health Research Institute and the Stanford Cancer Institute.
Still, their physical proximity got them talking, and among the topics of conversation was a particular molecule that Morrison had been looking at, one that turns out to be present not just in yeast but also in mice and many other living things, too. That got them wondering: what did that molecule do in those other living things, and what would happen if it disappeared?
Time to make some mice
In yeast, the molecule, called Ino80, is pretty important – without it, yeast get sick and die off – but in other organisms, "we didn't know what to expect," Morrison said.
To find out, Red-Horse and her lab started the years-long process of genetically modifying mice to lack Ino80, either throughout their bodies or in specific areas of the body or specific cell types. To do this they utilised IMPC resources.
The most intriguing results, Red-Horse said, came from mice which didn't produce Ino80 in certain heart cells – called endothelial cells – that are the progenitors of blood vessels that feed the muscles of the heart. Without Ino80, the network doesn't develop properly, and as a result, cardiac muscles couldn't develop properly either – instead remaining spongy and weak.
It was at this point that the team noticed the similarity between their mice and a form of heart disease called left ventricular non-compaction, the third most common disease of the heart muscle. "It was a complete surprise," Morrison said.
Check out our recent work on role of chromatin remodelers in heart disease! https://t.co/oOc1W530fQ Endothelial deletion of Ino80 disrupts coronary angiogenesis and causes congenital heart disease

— Ashby Morrison (@Morrison_Lab_SU) February 22, 2018
Growing hearts
Curiously, blood flow through those missing vessels – and the oxygen it provides – is only part of the story. In a follow-up experiment, the researchers grew heart muscles in a dish along with endothelial cells that had not yet formed into blood vessels. The team found that when those endothelial cells produced no Ino80, the heart muscle didn't develop properly. Apparently, Red-Horse said, "endothelial cells are producing something that's a growth factor" for cardiac muscle cells. "The next step is to identify that factor."
Still, what they've found already should change how both doctors and biologists think about how the heart forms. In both cases, taking into account the role of blood vessels could help explain normal muscle development in mice and then humans or lead to new therapies for diseases like left ventricular non-compaction. Farther down the road, the research could also have implications for regenerative medicine specialists working to grow hearts and other organs in the lab, Red-Horse and Morrison said.
Research article: Endothelial deletion of Ino80 disrupts coronary angiogenesis and causes congenital heart disease
Article edited from a press release for Stanford News
Glucose is the energy that fuels cells, and the body likes to store glucose for later use. But too much glucose can contribute to obesity, and scientists have long wanted to understand what happens within a cell to tip the balance.
To solve this riddle, researchers at UT Southwestern's Cecil H. and Ida Green Center for Reproductive Biology Sciences examined specialized compartments inside the cell to reveal the role of a molecule termed NAD+ in turning on genes that make fat cells.
The study utilised IMPC resources for the generation of Nmnat1 conditional knockout mice. Frozen Nmnat1tm1a(EUCOMM)Wtsi embryos on a C57BL/6N background were obtained and recovered at UT Southwestern's Transgenic Core Facility. The research is reported in the journal Science.
NAD+ is found in every cell of the body and some scientists believe that boosting its production may be tied to better health and to the slowing down of the aging process.
What is NAD+?
NAD+ stands for nicotinamide adenine dinucleotide. It's a molecule found inside cells in the body that helps transfer energy between molecules.
Why is it important?
NAD+ is believed to play important roles in longevity, aging, and diseases ranging from neurodegenerative disorders to cancer.
UT Southwestern biologists examined individual compartments inside cells that house NAD+ molecules to determine how they control genes that are essential to the fat-storing process – knowledge that could help in a wide range of ailments, including metabolic disorders, neurodegenerative diseases, inflammation and aging, and cancer.
"This compartmentalization ends up having profound effects on gene expression in the nucleus, as well as metabolism in the cytoplasm," (the jellylike substance outside the cell's nucleus), said Dr. W. Lee Kraus, Director of the Green Center and senior author on the research. "We found that these processes play key roles in fat cell differentiation and in cancer cells."

"The previous thinking in the field was that NAD+ was evenly distributed throughout cells and moved freely between different subcellular compartments," said Dr. Kraus, Professor of Obstetrics and Gynecology and Pharmacology. "We showed that NAD+ is actually compartmentalized – there are separate nuclear and cytoplasmic pools of NAD+ whose levels change under certain cellular conditions."
NAD+/NADH has always been on the radar in metabolism ever since the sirtuins… now a cool new look at NAD function by investigating the differential localization of the NMNAT enzymes that regulate NAD @sciencemagazine @UTSWNews https://t.co/qG1cuojUO0

— Jon Long (@LongLabStanford) May 10, 2018
Accounting for the levels of NAD+ biosynthesis separately rather than in their totality helped increase the understanding of the biology involved, said first author Dr. Keun Ryu, a postdoctoral researcher in Obstetrics and Gynecology.
"Our study provides a new understanding of NAD+ biology," he said.
Research article: http://science.sciencemag.org/content/sci/360/6389/eaan5780.full.pdf
We are excited to be attending the European Society of Human Genetics (ESHG) 2018 conference this weekend in Milan! Visit stand 280 to find out more about the IMPC and to pick up contact information and handouts. We will be tweeting relevant research and news during the conference so please follow us on Twitter for updates.
As well as exhibiting, Pilar Cacheiro, Damian Smedley & Violeta Munoz Fuentes will also be discussing the IMPC in a workshop, poster & talk:
Amalio Telenti discusses his recent article in Nature: Human gene essentiality
Link to article: https://www.nature.com/articles/nrg.2017.75.pdf
More information on this research can be found on Amalio's website: https://www.stsiweb.org/about/faculty/telenti-amalio/
You can also follow Amalio on Twitter: https://twitter.com/atelentia
A new study by the Psychiatric Genomics Consortium has identified 44 genetic loci that are linked to major depression in humans. The research was published in the journal Nature Genetics.
This is the largest study to date looking at genetic risk factors for depression, a condition that affects more than 300 million people around the world.
This study in Nature Genetics reveals hundreds of new insights into gene function and human disease. The paper describes the analysis of 3,328 genes by the IMPC, representing approximately 15% of the mouse genome. 360 new disease models were identified. Moreover, the team identified new candidate genes for diseases with unknown molecular mechanisms. More than half of the genes analysed have never been investigated in a mouse before, and, for 1,092 genes no molecular function or biological process were previously known.