ASHG 2018 Annual Meeting – research using mouse models
Guest post by John Morris (ASHG talk: Wed Oct 17, 9:00am – 9:15am in Room 6D)
Osteoporosis is a common, aging-related disease characterized by decreased bone strength and, consequently, increased fracture risk. Bone mineral density (BMD), a non-invasive measurement, is the most clinically relevant risk factor for diagnosing osteoporosis and is highly heritable (i.e. determined by genetics). To understand the genetic determinants of osteoporosis, we performed a genome-wide association study (GWAS) in 426,824 UK Biobank participants to identify regions of the genome associated with BMD estimated from quantitative heel ultrasound (eBMD). This approach is unbiased in that it systematically tests millions of single nucleotide polymorphisms (SNPs) in the human genome—sites of common, uncommon, or rare genetic variation in the general population—for association with eBMD measurements. BMD-associated SNPs can then be used to identify novel bone genes, but such genes would require further study in human cells or animal models to understand their function. Therefore, we collaborated with the Origins of Bone and Cartilage Disease (OBCD, www.boneandcartilage.com) to examine genes in knockout mice. Such genes, when validated by knockout mouse skeletal phenotyping, represent strong candidates for developing new therapies to prevent and treat osteoporosis.
Our eBMD GWAS identified 518 significant regions of the genome, 301 of which were novel findings. Next, to identify target genes, we performed statistical fine-mapping and integrative bone cell functional genomics data analyses. First, by leveraging SNP association summary statistics and SNP-by-SNP correlations, we can identify a subset of plausibly causal SNPs. Then, by intersecting this list of plausibly causal SNPs with genomic characteristics that indicate function (e.g. coding SNPs, osteoblast open chromatin, osteoblast 3D contacts with gene promoters), we can identify a list of target genes likely to be functional in bone cells. These orthogonal approaches resulted in a list of 515 target genes, identified by plausibly causal and putatively functional SNPs, that we found were strongly enriched for known bone genes and osteoporosis drug targets. We sought to examine the effects of as many of these genes as possible in knockout mice and found the OBCD had skeletal phenotyping data on 126. Importantly, the OBCD receives all knockout mouse lines for skeletal phenotyping at random from the International Mouse Phenotyping Consortium (IMPC), therefore it is not known beforehand if a given knockout mouse has a skeletal phenotype. These 126 genes were found to be enriched for outlier skeletal phenotypes, providing strong evidence that our target genes are disease-relevant, and we focused on one such gene in further detail: disheveled-associated activator of morphogenesis 2 (DAAM2).
Mice with hypomorphic Daam2 alleles were found to have increased cortical porosity and markedly reduced bone strength, even though all other cortical bone parameters, including BMD, were normal. We performed further analyses on DAAM2, such as CRISPR-Cas9 mediated knockouts in human osteoblast cell lines, revealing a decreased ability of this crucial bone-forming cell to mineralize. We concluded that DAAM2 is a novel risk gene for osteoporosis meriting further study and highlighted five other strong candidates for follow-up: CBX1, WAC, DSCC1, RGCC, and YWHAE. In summary, we have generated an atlas of genetic influences on osteoporosis in humans and mice, more fully describing its genetic architecture. Human and mouse genetics identified DAAM2 and other genes previously unknown to function in bone biology. We expect the genes identified here to include new drug targets for the treatment of osteoporosis, where novel therapeutic options are a health priority.
Our work is currently available on bioRxiv at www.biorxiv.org/content/early/2018/07/27/338863
We are excited to be attending the the ASHG 2018 Annual Meeting in San Diego next week. We are looking forward to engaging with researchers and to raise awareness of the IMPC as a resource. If you are attending the conference and want to learn more about the IMPC please visit stand 225 in the non-profit section of the exhibition hall. We will be tweeting relevant research and news during the conference so please follow us on Twitter for updates. We are also adding guest blog posts from attendees presenting research that utilize mouse models, click here to read them.
As well as documentation and information about the latest research , we will also be giving out coasters, pens, notebooks and toy mice. Please don't hesitate to come to our stand if you are interested in hearing more about the IMPC or if you want to pick up some handouts. Pilar Cacheiro and Damian Smedley will also be presenting research that mentions IMPC resources, both on Wednesday the 17th, and we will have copies of the poster on the stand. More information on the aims and uses of IMPC can be found below.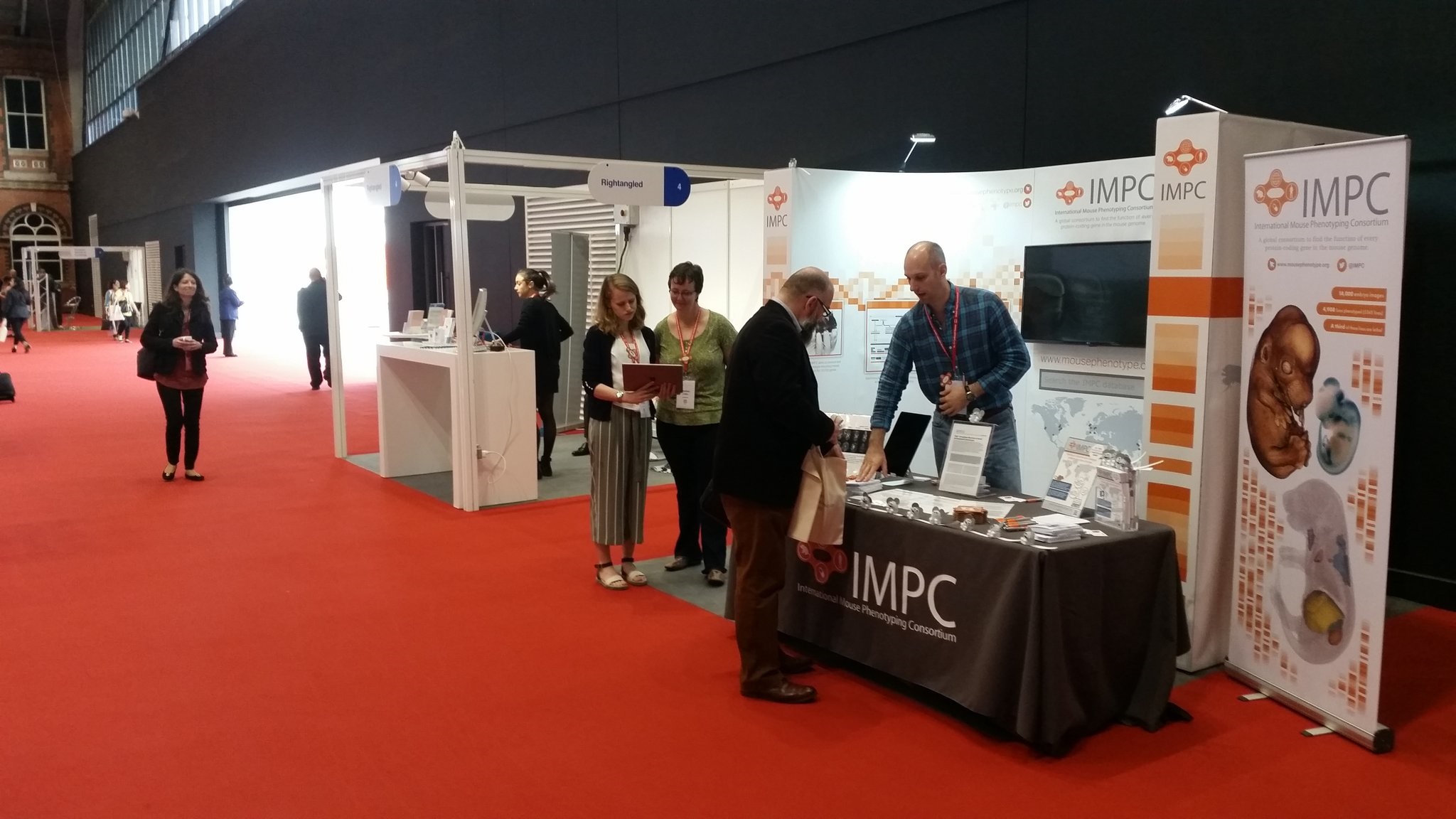 The International Mouse Phenotyping Consortium (IMPC) is an international effort to identify the function of every gene in the mouse genome. The entire genome of many species has now been published and whole genome sequencing is becoming relatively quick and cheap to complete. Despite these advancements the function of the majority of genes remains unknown.
This is where the IMPC comes in, with the goal of phenotyping all 20,000 or so protein coding mouse genes. To achieve this, genes in the mouse genome are switched off then standardised physiological tests undertaken across a range of biological systems. This data is then made freely available to the research community. As well as completing large scale comparative studies, the overall aim of the project is to create a platform for this data where researchers/clinicians can search for genes or diseases of interest to help them understand human health and disease.
IMPC data can be used in a variety of ways, such as to investigate basic biology mechanisms that can lead to new therapeutic targets or to narrow down a suspected list of genes in patients. In the last few years the IMPC have made major discoveries in parts of the genome that were hitherto unexplored, with new genes discovered relating to areas such as deafness, diabetes, and rare diseases. Summaries of five recent research articles that highlight the diversity of how IMPC data can be used are listed below. These include inferring mammalian gene function, studies on specific human conditions, sex differences in medical research, and even using IMPC data to help in wildlife conservation.