This page is to highlight IMPC achievements throughout the past 10 years, and how the scientific community can come take part in a selection of workshops and meetings the IMPC will be hosting throughout the year.
The consortium has released a 2021-26 Strategy Document which outlines it's targets for the next 5 years. Finally, the IMPC programme has also released a 2020 Highlights website showing all the Consortium's achievements from last year.
10 Years of Excellence
2021 marks the 10th anniversary of the IMPC. Over the last 10 years the Consortium has produced resources, data, and new knowledge that have had a profound impact on biomedical science and its capacity to identify dark gene function, essential genes, sexual dimorphism, genotype comorbidities (pleiotropy), and mechanisms of disease.
The IMPC's programme has had a transformative impact across biomedical discovery research, medical genetics and assisting rare disease diagnosis, enabling preclinical studies, and freely providing data and biological resources that are being used in drug target discovery along with the development of therapeutics and clinical trials that will bring target treatments to market.
Upcoming Events
Throughout the year, we are hosting a variety of meetings and workshops to highlight areas and successes IMPC has brought to the scientific community.
Featured Event
IMPC 10 Year Celebratory Conference
A 2 day virtual meeting with international reach! International leading speakers from outside IMPC, as well as IMPC speakers, will reflect on the role of mouse genetics in biomedical research and genomics medicine, and the contributions of IMPC  to these achievements.
Register today | More information
2 Day EventVirtual/ Conference – IMPC
The 2021 ISQBP President's meeting
3 Day EventVirtual/ Congress – IGBMC
The 10th Anniversary of PHENOMIN
For 10 years, PHENOMIN has been supporting the national and international scientific community in the completion of their projects for a better transfer of results to humans. For a better reliability of data on your models!
We invite you to join us on 6 July from 2pm to 6pm to celebrate our achievements and share a vision of PHENOMIN's future; all together with you!
1 Day EventVirtual/ Congress – PHENOMIN
AMMRA Monthly Workshop
1 Day EventWorkshop/ Virtual – KMPC
3rd CCP Phenogenomics Conference 2021
The conference is divided into two blocks. The first day will be devoted to the theme "Human diseases and models". The second day is specifically dedicated to preclinical development, including covid-19, which will focus on translation of the basic research into the application.
View the website for more information
2 Day EventConference/ Virtual – CCP
IMPC mouse models contribution to current advances in metabolic and cardiac research
1 Day EventVirtual/ Conference – IMPC
2nd Inter-UK Research Institute Technician Symposium
1 Day EventVirtual/ Conference – MRC Harwell
Translational value of mouse models in nervous system diseases
1 Day EventVirtual/ Conference – IMPC
This list is constantly being updated so be sure to keep coming back (or follow our twitter page) to see if there's a meeting for your interests!
Key Publications
Since 2016, the IMPC has published several high impact seminal papers delivering pan-genomic insight into the relationship between genes and function. All of the papers demonstrate and underline a key notable outcome; identification across multiple disease areas of an extensive, unexplored landscape of novel genes and potential mechanisms in areas as diverse as development (Dickinson et al. 2016), metabolism (Rozman et al. 2018), deafness (Bowl et al. 2017), vision (Moore et al. 2018), and bone pathologies (Swan et al 2020).
View All Consortium Publications
Key Data
The IMPC has generated KO mutations for 9,719 genes; over half of known mouse <-> human orthologs. The entire global biomedical research community has generated KO mutations for 13,657 genes, of which 5,646 are exclusive to IMPC.
As well as our data, we have also curated landmark pages which display data for certain research areas and physiological systems: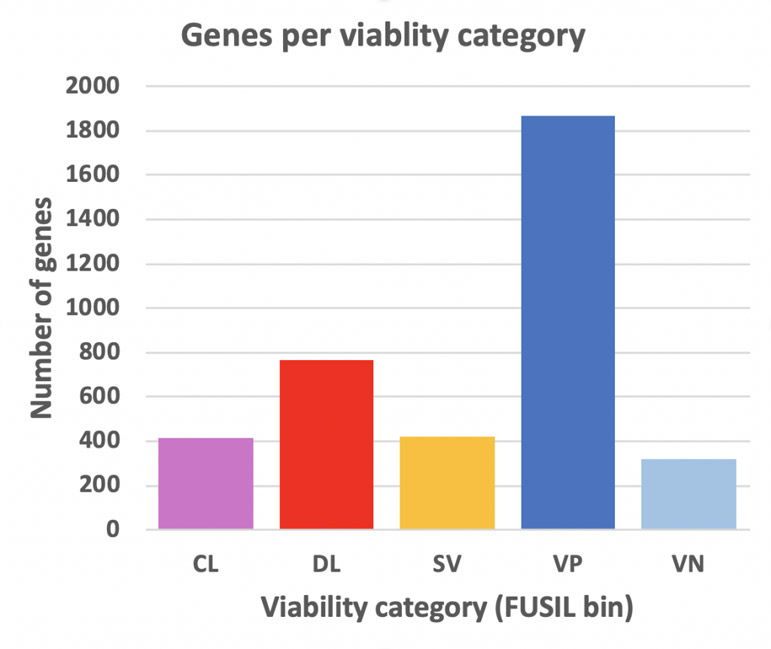 Essential Genes
We present integrated views of viability data to help researchers explore the full genetic spectrum of essentiality and aid unveiling yet unknown genetic associations to human disease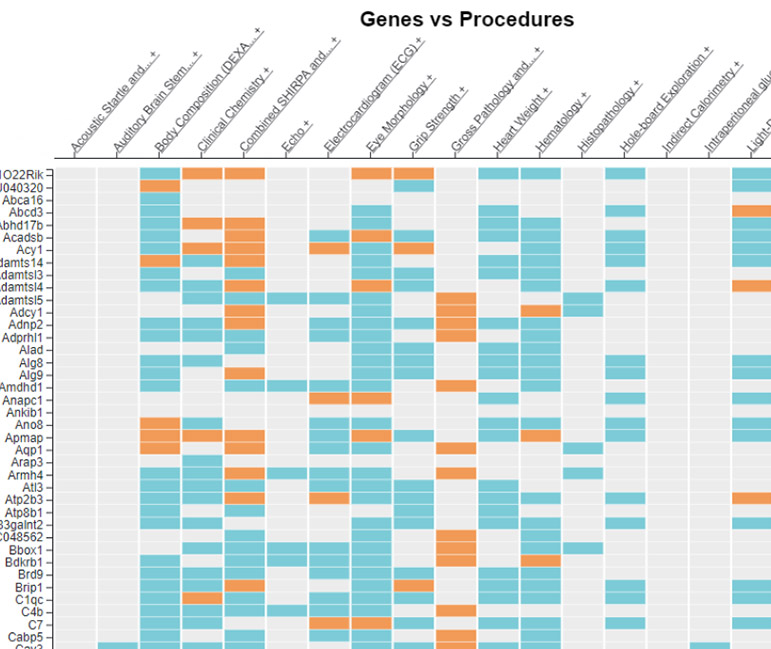 Late Adult Data
Selected mouse lines enter the ageing pipeline, in which specimens are aged to see gene knockout effects later in life.
We have landing pages for a wide range of data from the consortium. To view what else we have to offer, view our IMPC Data Collections page
COVID-19 Response
The ongoing COVID-19 pandemic has highlighted the importance of biological and biomedical research in the fight against disease and its key role in providing treatments and vaccines. At the IMPC, we know and understand how vital it is that the scientific community continues to share resources, knowledge and expertise.
The IMPC is also a part of the Global Mouse Models for COVID-19 Consortium (GMMCC). A global partnership of mouse genetics, genomics, and functional assessment centres. For more information visit their website.
View Resources page View Response Post
Downloads