EUCOMM – The European Conditional Mouse Mutagenesis Program is founder member and European cornerstone of the International Knockout Mouse Consortium (IKMC).
EUCOMM contributes the largest fraction of conditionally trapped and targeted genes in mouse C57BL/6N embryonic stem (ES) cells to the IKMC.
EUCOMM vectors, mutant ES cells and mutant mice are distributed worldwide, enabling functional genomics research in a standardized and cost-effective manner by a much wider biomedical research community than has been possible previously.
EUCOMM mutant ES cells and vectors can be obtained from the European Mouse Mutant Cell Repository (EuMMCR).
EUCOMM mutant mice are archived and distributed by the European Mouse Mutant Archive (EMMA).
EUCOMM Farewell Meeting Participants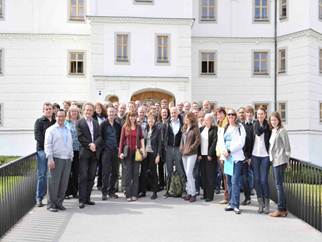 EUCOMM Project Information
Main Objectives
• Generation, archiving, and world-wide distribution of up to 12.000 conditional mutations across the mouse genome in mouse embryonic stem (ES) cells
• Establishment of a limited number of mouse mutants from this resource
Mutagenesis Strategies
• Conditional gene trapping – random approach for expressed genes
• Conditional targeted trapping – directed approach, used for expressed genes
• Conditional gene targeting – directed approach, used for non-expressed genes
Networking
• Generation of European mouse functional genomics platform by synergistic integration of EMMA, EUMODIC, EURExpress, FLPFLEX ,FunGenES, PRIME and others
• Cornerstone of world-wide mouse mutagenesis effort, member of the International Knockout Mouse Consortium (IKMC)
Societal Benefits
• Improvement of health research
• Speedup of drug development, therapy and diagnosis
• Competitive advantage for pharmaceutical industry
Funding & Structure
• Funded by European Union (FP 6, Priority 1 "Life Sciences, Genomics and Biotechnology for Health")
• EU funding: up to 13 million Euros
• Integrated Project
• Consortium: 9 participants from four European countries

EUCOMM Scientific Advisory Board
Phil Avner, Paris, France
David Beier, Boston, MA, USA
Pierre Chambon, Strasbourg, France
Deanna Church, Bethesda, MD, USA
Frank Grosveld, Rotterdam, The Netherlands
Monica Justice, Houston, TX, USA
George Kollias, Vari, Greece
Björn Löwenadler, Mölndal, Sweden
Bernard Malissen, Marseille-Luminy, France
Andrew McMahon, Cambridge, MA, USA
H. Earl Ruley, Nashville, TN, USA
Phil Soriano, New York, NY, USA
EUCOMM Coordination
Wolfgang Wurst
Allan Bradley
EUCOMM Management
Cornelia Kaloff
Derek Matthews
Karin Simmerl
EUCOMM Participants
EUCOMM Publications
2012
Highly-efficient, fluorescent, locus directed cre and FlpO deleter mice on a pure C57BL/6N genetic background.
Birling MC, Dierich A, Jacquot S, Hérault Y, Pavlovic G.
Genesis. 2012 Jun;50(6):482-9. PMID: 22121025 DOI: 10.1002/dvg.20826
The mammalian gene function resource: the international knockout mouse consortium.
Bradley A, Anastassiadis K, Ayadi A, Battey JF, Bell C, Birling MC, Bottomley J, Brown SD, Bürger A, Bult CJ, Bushell W, Collins FS, Desaintes C, Doe B, Economides A, Eppig JT, Finnell RH, Fletcher C, Fray M, Frendewey D, Friedel RH, Grosveld FG, Hansen J, Hérault Y, Hicks G, Hörlein A, Houghton R, Hrabé de Angelis M, Huylebroeck D, Iyer V, de Jong PJ, Kadin JA, Kaloff C, Kennedy K, Koutsourakis M, Lloyd KCK, Marschall S, Mason J, McKerlie C, McLeod MP, von Melchner H, Moore M, Mujica AO, Nagy A, Nefedov M, Nutter LM, Pavlovic G, Peterson JL, Pollock J, Ramirez-Solis R, Rancourt DE, Raspa M, Remacle JE, Ringwald M, Rosen B, Rosenthal N, Rossant J, Ruiz Noppinger P, Ryder E, Schick JZ, Schnütgen F, Schofield P, Seisenberger C, Selloum M, Simpson EM, Skarnes WC, Smedley D, Stanford WL, Stewart AF, Stone K, Swan K, Tadepally H, Teboul L, Tocchini-Valentini GP, Valenzuela D, West AP, Yamamura KI, Yoshinaga Y, Wurst W.
Mamm Genome. 2012 Oct;23(9-10):580-6. PMID: 22968824 DOI: 10.1007/s00335-012-9422-2
Isolation of homozygous mutant mouse embryonic stem cells using a dual selection system.
Huang Y, Pettitt SJ, Guo G, Liu G, Li MA, Yang F, Bradley A.
Nucleic Acids Res. 2012 Feb 1;40(3):e21. PMID: 22127858 DOI: 10.1093/nar/gkr908
2011
2010
2009
2008
2007
A mouse for all reasons.
International Mouse Knockout Consortium, Collins FS, Rossant J, Wurst W
Cell. 2007;128;9-13. PMID: 17218247 DOI: 10.1016/j.cell.2006.12.018
A new partner for the international knockout mouse consortium.
Collins FS, Finnell RH, Rossant J, Wurst W
Cell. 2007;129;235. PMID: 17448981 DOI: 10.1016/j.cell.2007.04.007
Hdac2 regulates the cardiac hypertrophic response by modulating Gsk3 beta activity.
Trivedi CM, Luo Y, Yin Z, Zhang M, Zhu W, Wang T, Floss T, Goettlicher M, Noppinger PR, Wurst W, Ferrari VA, Abrams CS, Gruber PJ, Epstein JA
Nat Med. 2007;13;324-31. PMID: 17322895 DOI: 10.1038/nm1552
2006
The International Gene Trap Consortium Website: a portal to all publicly available gene trap cell lines in mouse.
Nord AS, Chang PJ, Conklin BR, Cox AV, Harper CA, Hicks GG, Huang CC, Johns SJ, Kawamoto M, Liu S, Meng EC, Morris JH, Rossant J, Ruiz P, Skarnes WC, Soriano P, Stanford WL, Stryke D, von Melchner H, Wurst W, Yamamura K, Young SG, Babbitt PC, Ferrin TE
Nucleic Acids Res. 2006;34;D642-8. PMID: 16381950 DOI: 10.1093/nar/gkj097
Engineering embryonic stem cells with recombinase systems.
Schnütgen F, Stewart AF, von Melchner H, Anastassiadis K
Methods Enzymol. 2006;420;100-36. PMID: 17161696 DOI: 10.1016/S0076-6879(06)20007-7
2005
EMPReSS: standardized phenotype screens for functional annotation of the mouse genome.
Brown SD, Chambon P, de Angelis MH,
Nat Genet. 2005;37;1155. PMID: 16254554 DOI: 10.1038/ng1105-1155
Genomewide production of multipurpose alleles for the functional analysis of the mouse genome.
Schnütgen F, De-Zolt S, Van Sloun P, Hollatz M, Floss T, Hansen J, Altschmied J, Seisenberger C, Ghyselinck NB, Ruiz P, Chambon P, Wurst W, von Melchner H
Proc Natl Acad Sci U S A. 2005;102;7221-6. PMID: 15870191 DOI: 10.1073/pnas.0502273102
2004
The knockout mouse project.
Austin CP, Battey JF, Bradley A, Bucan M, Capecchi M, Collins FS, Dove WF, Duyk G, Dymecki S, Eppig JT, Grieder FB, Heintz N, Hicks G, Insel TR, Joyner A, Koller BH, Lloyd KC, Magnuson T, Moore MW, Nagy A, Pollock JD, Roses AD, Sands AT, Seed B, Skarnes WC, Snoddy J, Soriano P, Stewart DJ, Stewart F, Stillman B, Varmus H, Varticovski L, Verma IM, Vogt TF, von Melchner H, Witkowski J, Woychik RP, Wurst W, Yancopoulos GD, Young SG, Zambrowicz B
Nat Genet. 2004;36;921-4. PMID: 15340423 DOI: 10.1038/ng0904-921
The European dimension for the mouse genome mutagenesis program.
Auwerx J, Avner P, Baldock R, Ballabio A, Balling R, Barbacid M, Berns A, Bradley A, Brown S, Carmeliet P, Chambon P, Cox R, Davidson D, Davies K, Duboule D, Forejt J, Granucci F, Hastie N, de Angelis MH, Jackson I, Kioussis D, Kollias G, Lathrop M, Lendahl U, Malumbres M, von Melchner H, Müller W, Partanen J, Ricciardi-Castagnoli P, Rigby P, Rosen B, Rosenthal N, Skarnes B, Stewart AF, Thornton J, Tocchini-Valentini G, Wagner E, Wahli W, Wurst W
Nat Genet. 2004;36;925-7. PMID: 15340424 DOI: 10.1038/ng0904-925
A public gene trap resource for mouse functional genomics.
Skarnes WC, von Melchner H, Wurst W, Hicks G, Nord AS, Cox T, Young SG, Ruiz P, Soriano P, Tessier-Lavigne M, Conklin BR, Stanford WL, Rossant J,
Nat Genet. 2004;36;543-4. PMID: 15167922 DOI: 10.1038/ng0604-543
Von Melchner H, Stewart AF. 2004. Engineering of ES cell genomes with recombinase systems.
In: Handbook of Stem Cells, ed. R Lanza, pp. 609-22. Elsevier Academic Press.
2003
A large-scale, gene-driven mutagenesis approach for the functional analysis of the mouse genome.
Hansen J, Floss T, Van Sloun P, Füchtbauer EM, Vauti F, Arnold HH, Schnütgen F, Wurst W, von Melchner H, Ruiz P
Proc Natl Acad Sci U S A. 2003;100;9918-22. PMID: 12904583 DOI: 10.1073/pnas.1633296100
2001
Functional analysis of secreted and transmembrane proteins critical to mouse development.
Mitchell KJ, Pinson KI, Kelly OG, Brennan J, Zupicich J, Scherz P, Leighton PA, Goodrich LV, Lu X, Avery BJ, Tate P, Dill K, Pangilinan E, Wakenight P, Tessier-Lavigne M, Skarnes WC
Nat Genet. 2001;28;241-9. PMID: 11431694 DOI: 10.1038/90074
2000
An LDL-receptor-related protein mediates Wnt signalling in mice.
Pinson KI, Brennan J, Monkley S, Avery BJ, Skarnes WC
Nature. 2000;407;535-8. PMID: 11029008 DOI: 10.1038/35035124
Gene trapping methods for the identification and functional analysis of cell surface proteins in mice.
Skarnes WC
Methods Enzymol. 2000;328;592-615. PMID: 11075368
1997
Rapid sequence analysis of gene trap integrations to generate a resource of insertional mutations in mice.
Townley DJ, Avery BJ, Rosen B, Skarnes WC
Genome Res. 1997;7;293-8. PMID: 9074932 DOI: 10.1101/gr.7.3.293
1995
Capturing genes encoding membrane and secreted proteins important for mouse development.
Skarnes WC, Moss JE, Hurtley SM, Beddington RS
Proc Natl Acad Sci U S A. 1995;92;6592-6. PMID: 7604039